How Asset Management Companies Can Grow With Conversational AI
Asset Management, Chatbots, Conversational AI, Conversational Messaging, Messaging API
On May 30, 2022
In today's crowded marketplace, where providers are vying for the fastest fund transfer rates and lowest brokerage, clients' needs have evolved, requiring quick and easy concern-resolution and value ads, such as training, communication, the fastest query resolution, etc. As per an IBM report, businesses that focus on customer experience (CX) quality can enjoy three times the revenue growth of businesses that don't invest in CX technology.
With the marketplace giving consumers a taste of getting solutions to their concerns from the comfort of their homes, even with Finance, retail customers don't want to wait in lines in the office to get answers. Traders and investors deal with highly volatile market changes, and every minute is valuable to them. They require their AMC to be available all the time to resolve any issues that may arise.
Conversational AI helps with exactly this.
Milind Barve, MD of HDFC Sec says, "Simplicity is the most innovative way of actually tapping the market and we cannot make products which are complex which people find difficult to understand."
Conversational AI brings this simplicity to AMCs and investing with them.
Conversational AI chatbots from Gupshup can help cut down on the user waiting time and improve your customer experience, thus driving the overall NPS.
Conversational AI To The Rescue
1. Enable easy account opening and automatic document verification
The most common issue for traders and investors is the time delay in opening new trading and investing accounts. Traditionally, they have to take a few hours off to open an account with their fund manager. Gupshup helps your asset management company simplify this process with chatbots, using which your customers can open an account in a few minutes.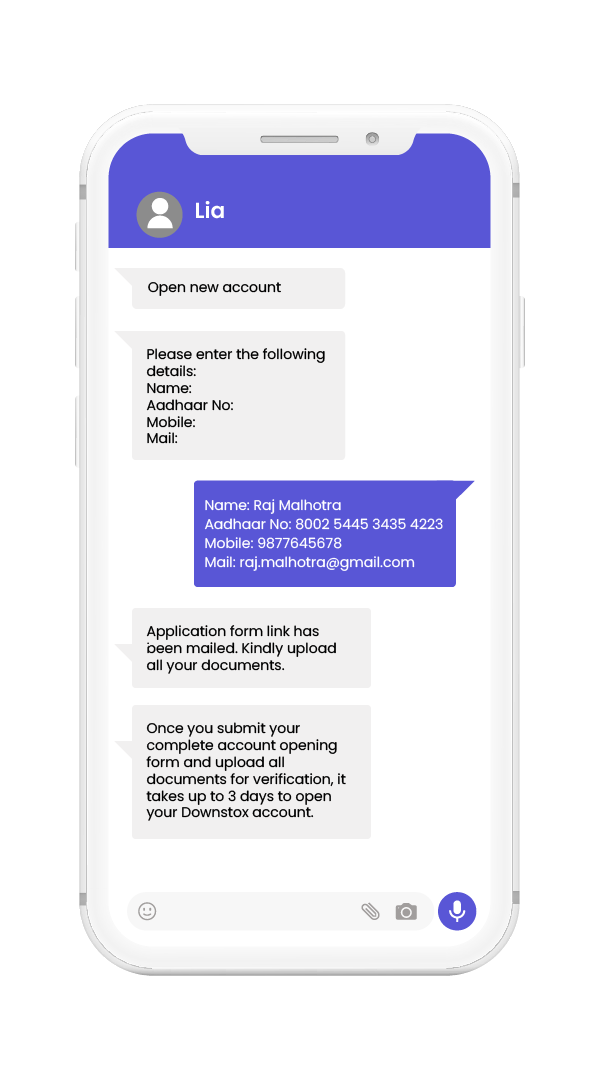 When someone wants to open a new Demat account for trading and investing purposes, they can ask the chatbots for instructions. They will be provided with tutorials to open a Demat account. If they need help, the bot can redirect them to a human agent for further assistance.
For the account opening process, document verification is crucial. Now, your customers don't have to wait at a bank or an AMC office to submit and verify the documents. They can upload digital copies to the Gupshup chatbots and complete online verification.
Popular trading platforms now take as long as 72 hours after submitting physical documents to do a KYC. Gupshup's conversational AI bot can ask customers for all details, and guide them to upload digital copies to verify documents. Resources from the AMC don't need to update customer details manually because Gupshup can integrate easily with most information management tools.
2. Provide instant account access
Your customers can access the Demat account for fund management online to manage their funds. Many traditional traders and investors are still wary of using online fund management because they don't effectively navigate the website, or do not trust online payments.
Gupshup provides confidential and personal assistance by providing direct account access inside a communication platform of your preference. Using preset options and smart questions, the conversational AI bot immediately provides customers with an account statement, transaction history, or any other data sought, whenever they want. All that's needed is their registered mobile number to get any information they seek.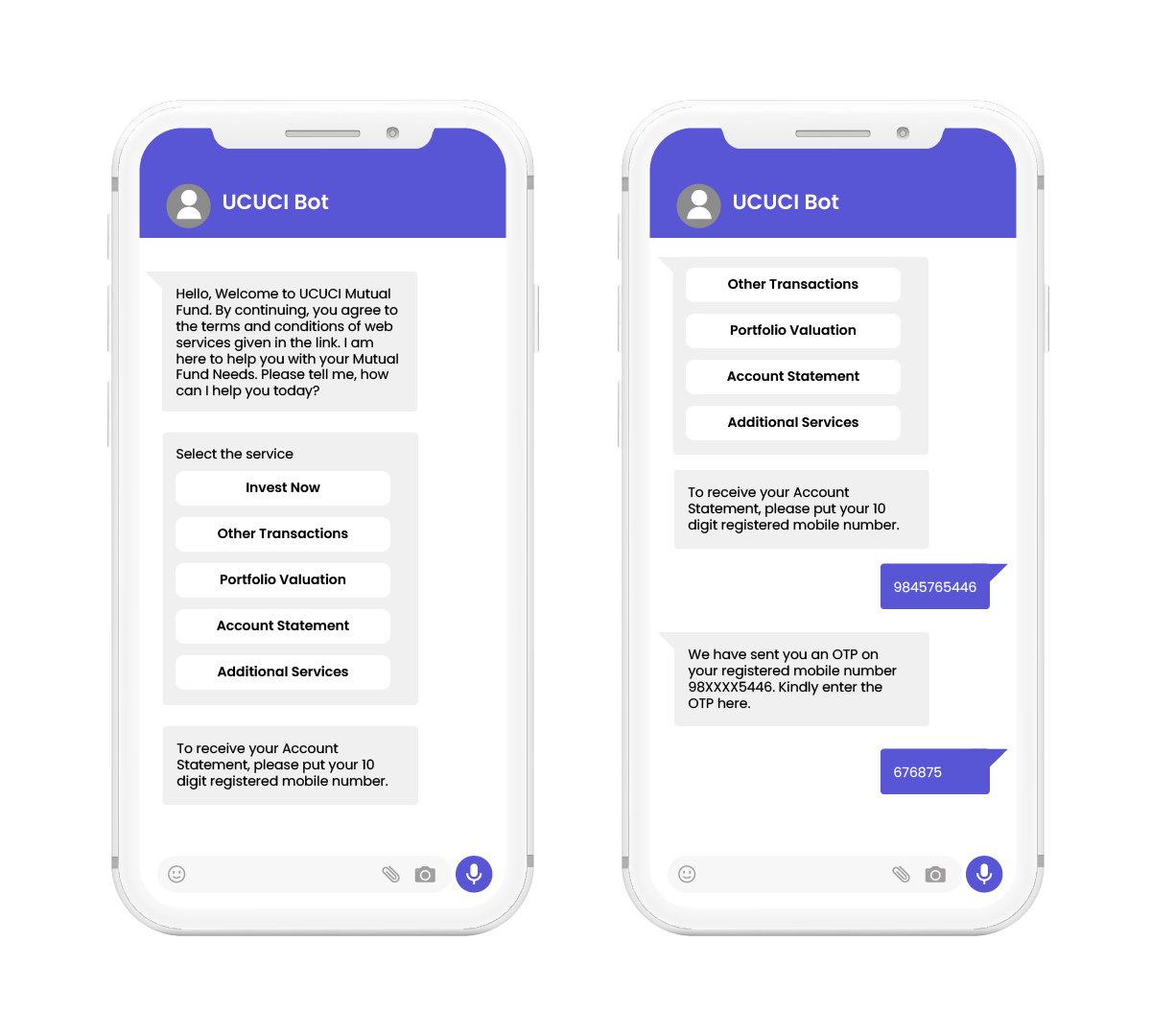 Instead of logging into the web portal and navigating the website to download consolidated account statements, your customers can directly download their monthly account statements with a simple command to invoke the chatbots. It's these small CX changes that separate you from your competition.
If your customers have forgotten their password, they don't need to go through the hassle of accessing a web portal to reset their password. With Gupshup, you can simplify this process of the user journey by providing the password reset link with a simple input from the customer.
Incorporate personalized client service for traders and investors
The AI-infused Chatbot can guide a customer by understanding their current financial status and future goals. This analysis is useful in providing better guidance for a customer profile. The chatbots can help customers with fund selection strategy and asset allocation. If further support and human intervention are needed, the Gupshup bot will redirect the customer to the next available asset manager for in-person assistance.
If you wish to provide a service on alerts, your customers, with a few inputs on their risk-appetite, can get alerts for their favourite stocks or mutual funds in a hassle-free manner.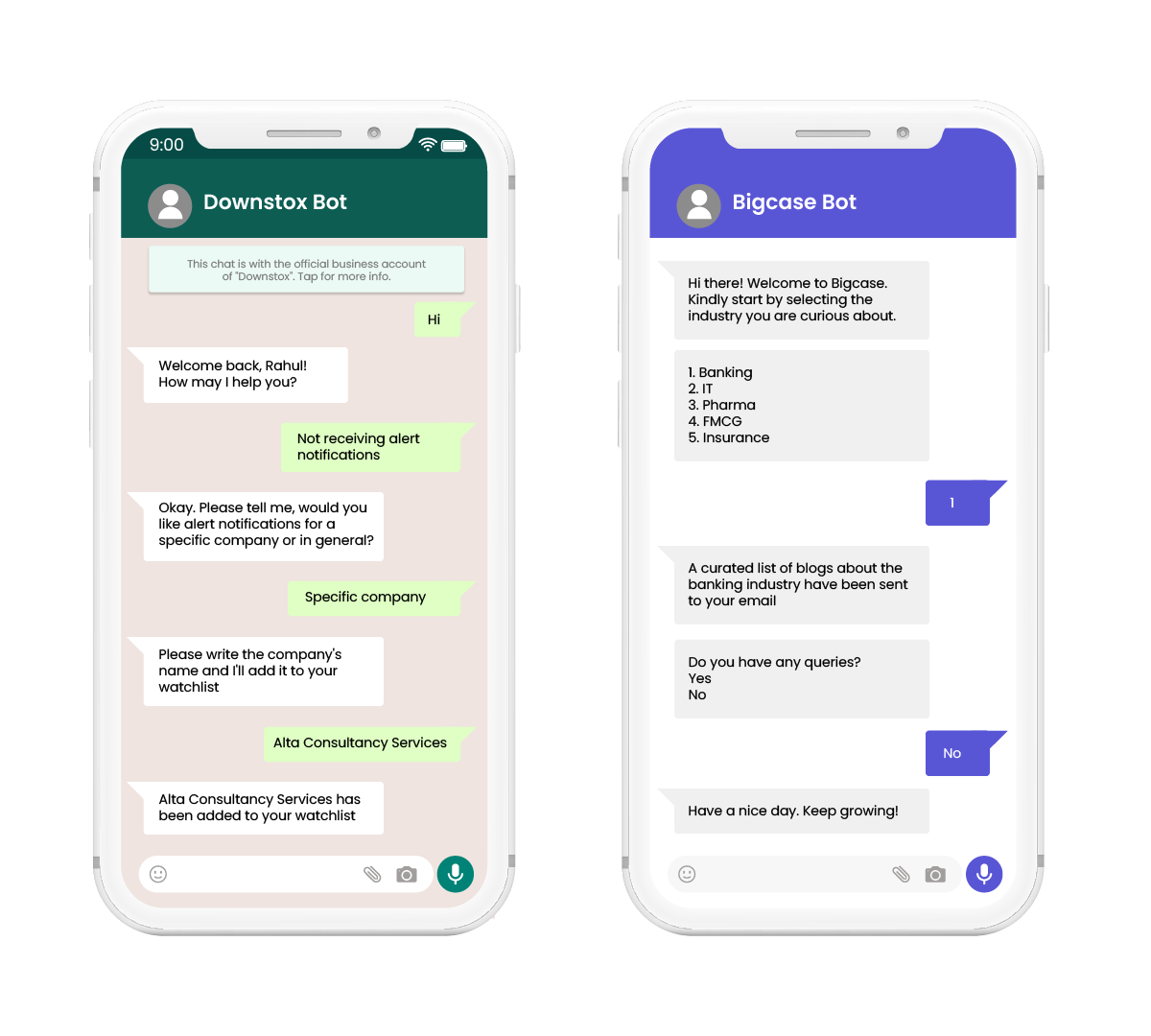 When integrated with a broker, the conversational messaging API can enable customers to complete their trades and investment decisions without any delay. They can buy and sell stocks by instructing the AI bot to complete the transactions. They can set close positions and forget about them. The automated AI robot will complete their transactions on their behalf and notify them once the closing is complete.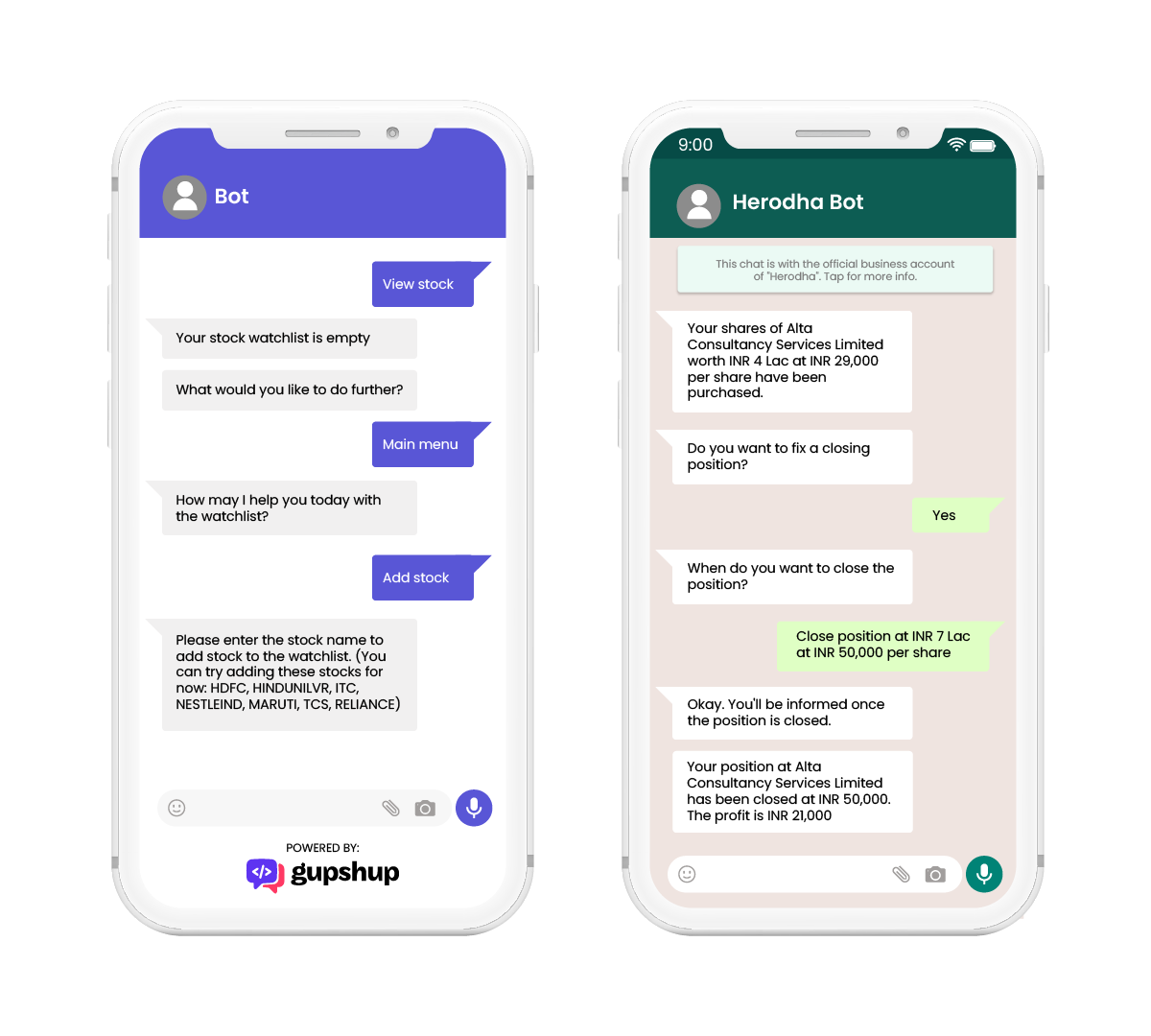 The fund managers can focus on improving the quality of trading and investment products, while the Gupshup chatbots provide the customers with the necessary decision-making support. The quick learning AI algorithm will analyse customer portfolios and help them make better financial decisions. The chatbots provide stock management, and your customers can easily check how their products are performing.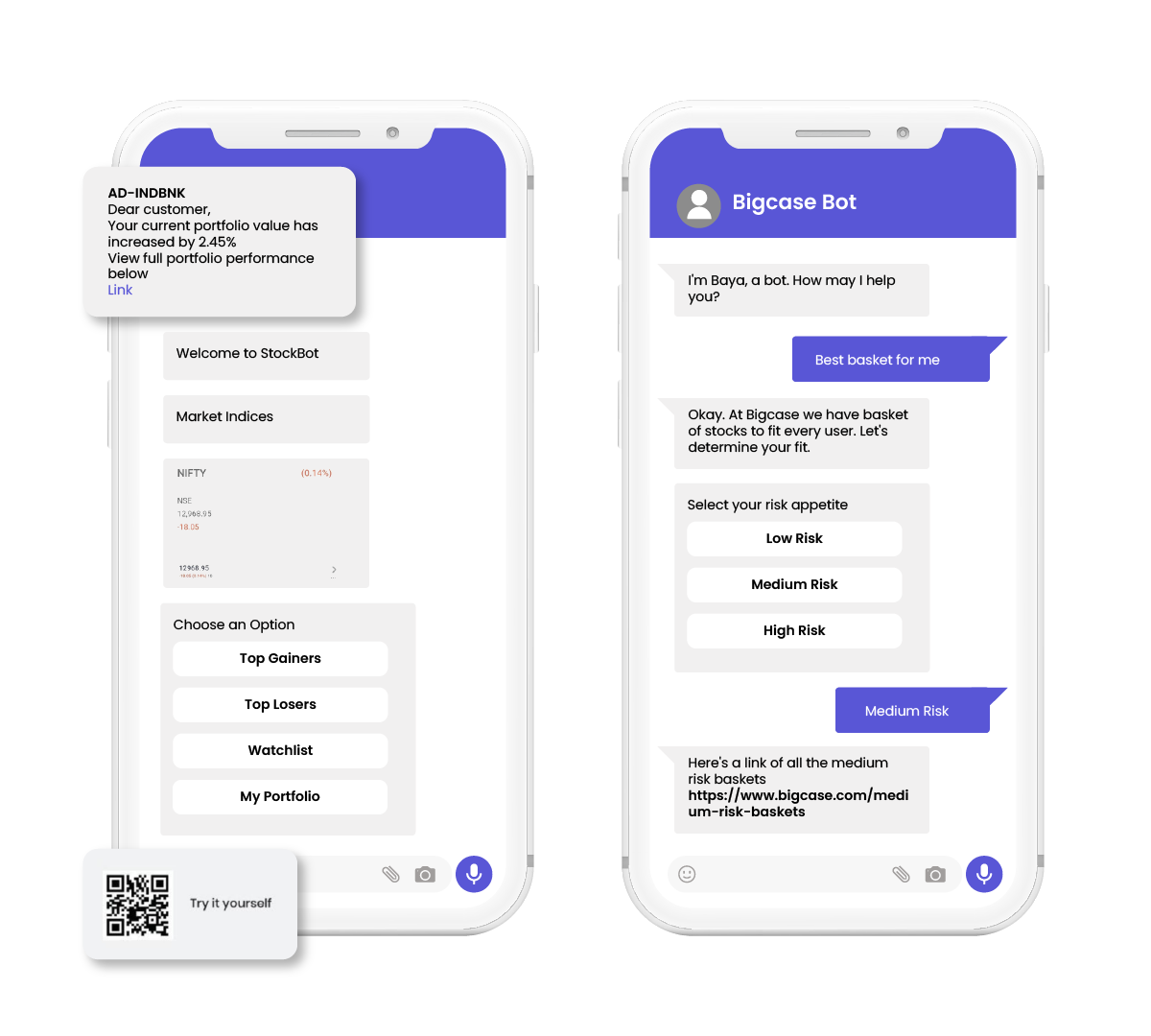 3. Resolve customers' problems seamlessly at any time
Think of this as an easily accessible FAQ section. When your customers run into problems while trading and investing, e.g., buying or selling, call or put transactions, cash transfers, document upload etc., they can fire up the Gupshup messaging API and raise a ticket on priority.
For common issues, solutions can be pre-configured. Videos and demonstrations can be sent as responses to common questions. Links can also be plugged in as and when needed.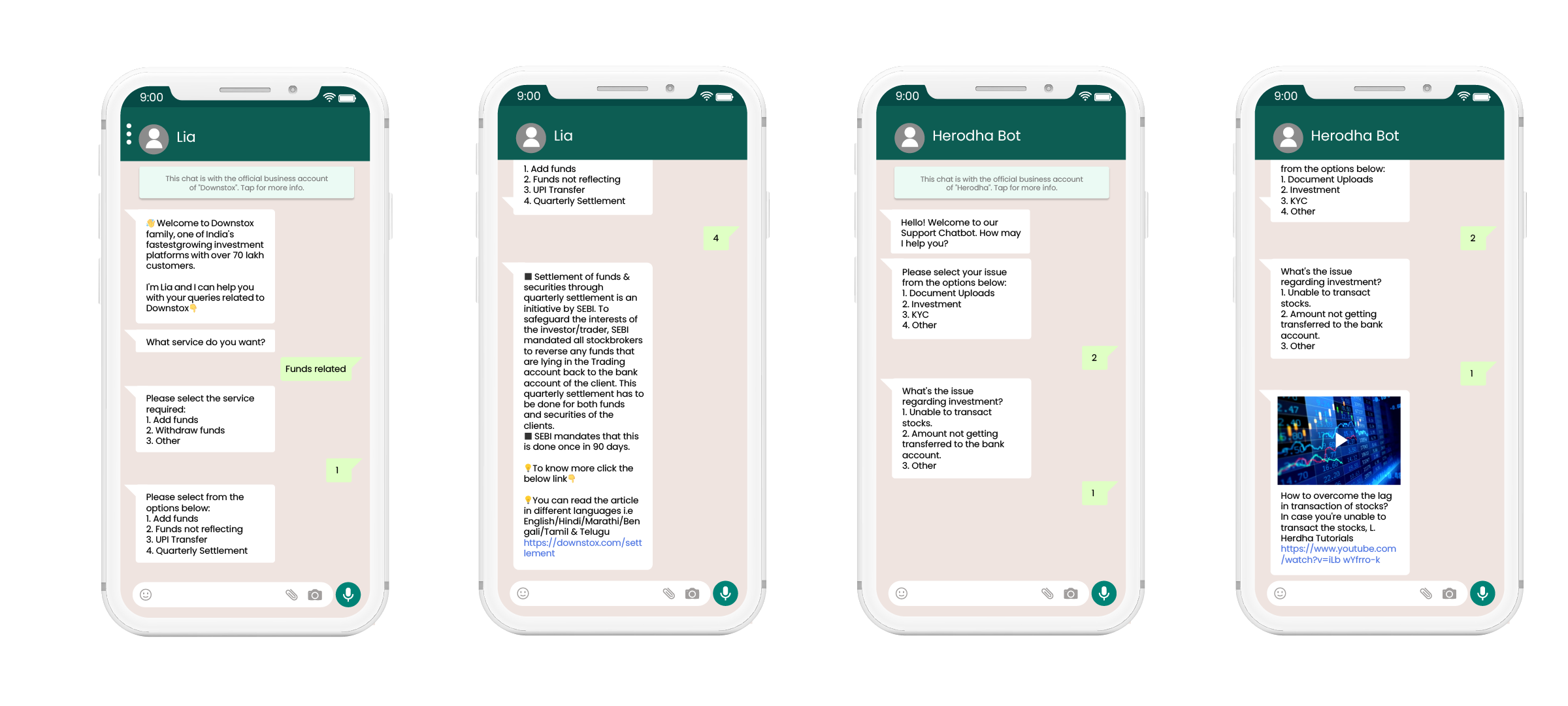 4. Engage with your customers in real-time
Customer service can be enhanced substantially with appropriate customer feedback. Traditionally, fund managers have to follow up and ask the customers to fill out feedback forms. With the Gupshup messaging API, all your customers need to do is select the option to provide their feedback easily.
While providing support for existing products, asset managers continue rolling out new product launches and promotional offers to encourage higher investment. This constant support is only possible with conversational AI that can follow the customer's needs in real-time.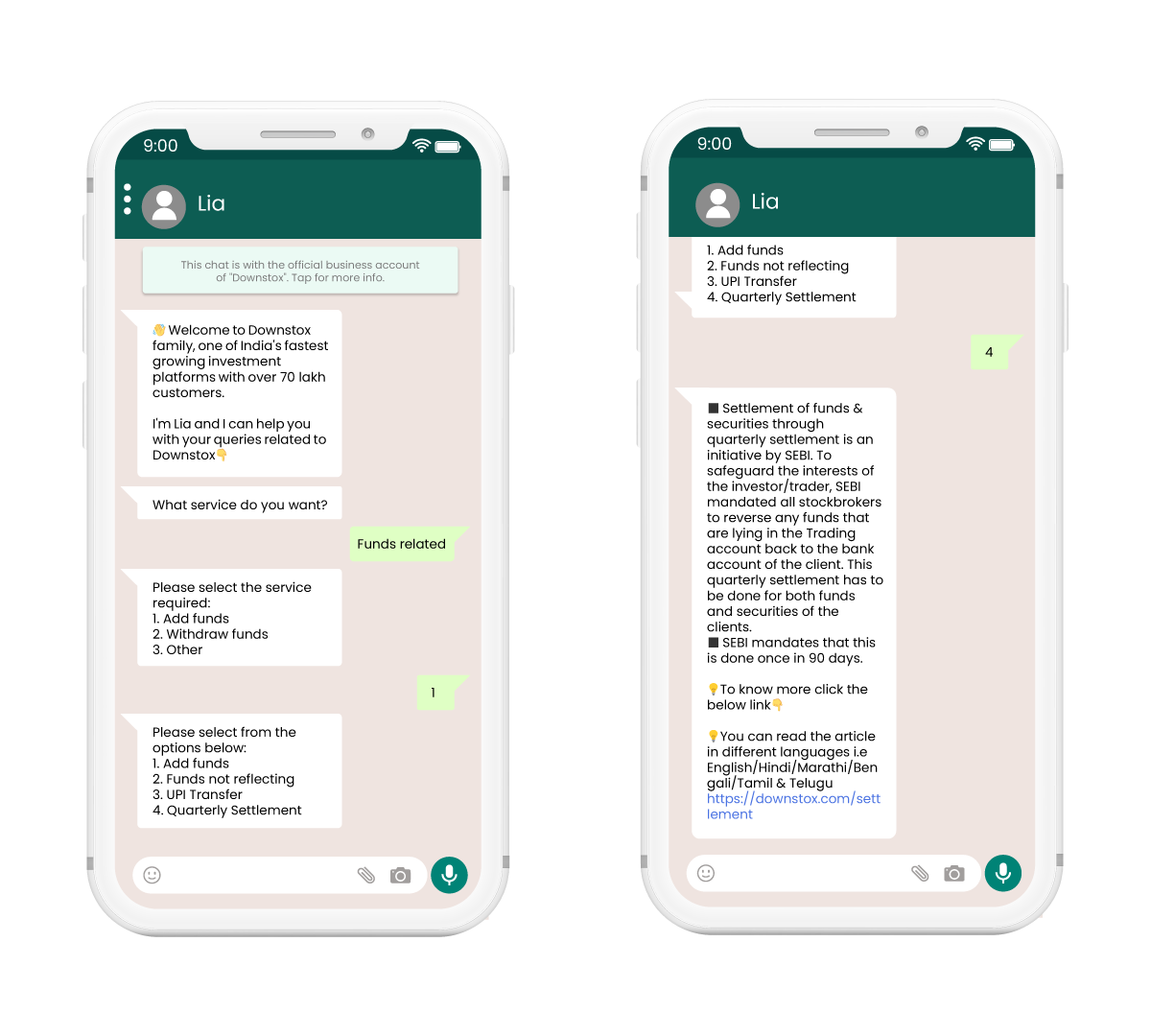 Conclusion
By 2026, global AI in the asset management industry will reach $8.3 billion. It only makes sense for asset management companies to innovate and adopt conversational AI systems.
While traditional systems need not be phased out immediately, they can be kept as support systems to enhance Conversational AI.
Your customers deserve business intelligence with AI augmentation to achieve their financial goals. Join hands with Gupshup today to create actionable financial services powered by customizable conversational AI systems.
Blogs you will want to share. Delivered to your inbox.
Recommended Resources
Make it easier for customers to find your local business and increase conversions with Google Business...
Travellers love experiences. Is your travel/hospitality business doing it right with an effortless customer experience?
Read this blog to learn how Google's Business Messages API can help businesses drive better customer...
×
Read: Conversational AI For An Improved Customer Hospitality Experience